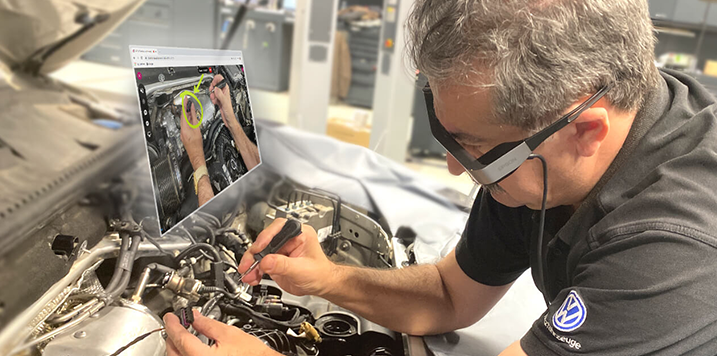 12 April, 2023
The company Volkswagen Group España Distribución has implemented the Remote Product Support solution created by Gipukzoa-based startup Innovae at the workshops of its dealership network throughout Spain.


The Remote Technical Assistant (ATR) is a collaborative Augmented Reality tool designed to provide technical support remotely and in real time to field technicians. The system has been applied in workshops in order for the experts located in the technical headquarters to provide remote technical assistance to the mechanics in the different dealerships without the need to be on-site.


This multi-device solution allows users to superimpose visual instructions, share files and even hold group sessions. Furthermore, it is equipped to perform screen grabs, record sessions and generate reports automatically.


As a result, ATR is not just a remote communication system, it can also contribute to the digitalisation of knowledge and the monitoring of user activity.


Volkswagen Group España Distribución has opted to use ATR to improve the efficiency of its support process as an addition to the traditional assistance system in place.


Thus, technical issues are resolved and the number of journeys made is reduced, making the most of the department's time and resources.


To enhance the repair process, the Importer has opted to use smart glasses that enable technicians in the workshop to operate hands-free and convey visual information in real time to the Importer's Product Support department.


Thanks to ATR, the mechanics can access expert knowledge immediately, not only for fixing complex breakdowns, but also to for receiving information. Furthermore, once technical assistance is received, the mechanic can access digitalised knowledge in the form of saved reports and videos.


Currently, Volkswagen Group España Distribución, has equipped its entire service network with this technology, which has contributed to minimising journeys made by experts, reduced the learning curve for mechanics and improved diagnostics and the resolution of complex faults. It also improves safety conditions for workshop technicians, providing them with immediate support in particularly hazardous breakdowns.