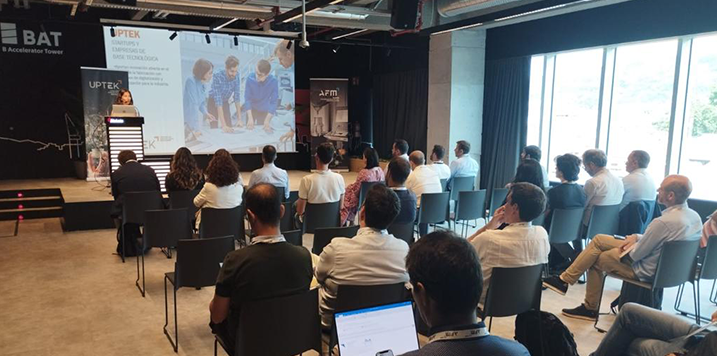 19 July, 2023
Corporate event UPTEK with the BAT ecosystem – B Accelerator Tower - took place on Tuesday, 18 July. The event, organised by UPTEK, brought together different companies with the aim of exploring the opportunities offered by this innovator and forging connections in the field of advanced manufacturing technologies and the manufacturing sector.
The event kicked off with the UPTEK General Meeting, followed by a guided tour of the facilities in which attendees learned about the workings and dynamics of the B Accelerator Tower. Afterwards, Olatz Goitia, CEO of BEAZ, and Eriz Sainz, Head of BAT, presented the initiatives and possibilities that the centre offers.
Xabier Ortueta, CEO of AFM Cluster, took part in the seminar presenting the ecosystem and functioning of the Cluster, and Juanjo Gómez, Director of UPTEK, highlighted the main initiatives and opportunities the association offers at this time.
To close out the seminar, a networking lunch was held, providing participants with an informal space in which to exchange experiences, make contacts and explore possible synergies among the companies present.
BAT – B Accelerator Tower
Located in the centre of Bilbao, BAT - B Accelerator Tower, is capable of bringing together public tools in the service of entrepreneurship and innovation, alongside outstanding services and the international network of PWC, in collaboration with Talent Garden and Impact Hub. BAT is an initiative of the Basque Government, the Bizkaia Regional Council and the Bilbao City Council aimed at making the Basque Country a benchmark in entrepreneurship and innovation. A key element for the international connection of the local ecosystem and the development of new sectors and businesses.