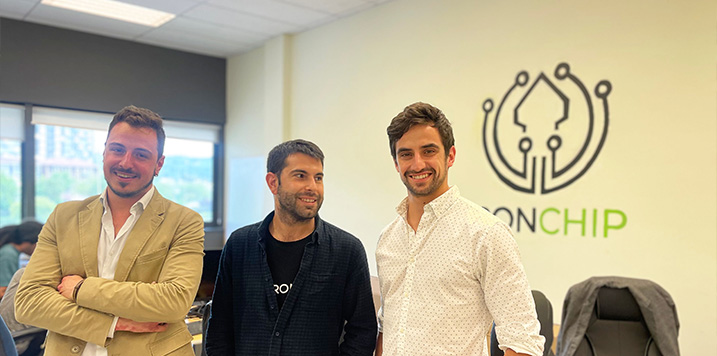 The Bizkaia-based company has received funding of 2.1 million euros in total. This new injection of capital brings in financial institution ABANCA, which co-leads the round with current investors Easo Ventures and Inveready. Also joining this round is the state body CDTI, through the Innvierte scheme; and Alex Rocha, expert in cybersecurity and technology, CEO of Swivel Secure Europe and General Manager of BIOkey EMEA (NASDAQ; BKYI), who joins the round as business angel and advisor in the internationalisation and expansion process.
The firm, specialising in digital identity based on intelligent localisation, was formed with the goal of creating more accessible, innovative and committed people-centred security. Ironchip launches a technology onto the market based on peoples' localisation behaviour in order to facilitate a personalised and secure user experience. The company aims to guarantee company security by building a resistant infrastructure in order to adopt a customer-centred approach.
Julen Martínez, CEO and co-founder of Ironchip, highlights that "In the current context, cybersecurity between governments, Covid-induced work-from-home, the digitalisation of industry... have led to endless cyber-attacks which have placed governments and financial institutions alike on high alert, with over 98% of these vulnerabilities happening remotely. This is why localisation has become vital information capable of enabling companies, and even governments, to protect themselves and make better decisions to safeguard against new attacks."
The participation of Ironchip in the ABANCA Innova startup programme has enabled them to validate technology and the value proposition for the financial sector with the support of specialised units. A successful pilot was the leverage that led ABANCA to become a valuable partner for the company. According to Javier Carral Martínez, CEO of Investment Banking and M&A at ABANCA, "we invest in sustainable startups that add value to the bank's business model. Optimising risk management is one of our strategic mainstays and cybersecurity is one of the main challenges we need to address in a digital and hyper-connected society. We invest in the disruptive value proposition that Ironchip offers and in its promotional team which has shown a high execution capacity. ABANCA has strengthened its commercial presence in the Basque Country and after purchasing the Bankoa sales network, ABANCA has over 32 retail branches, 7 business banking branches, 1 Corporate Banking office and a team of over 250 people. With this new investment from Ironchip, we are supporting talent and disruptive entrepreneurship in the region".
Roger Piqué, founding partner of Inveready Asset Management takes this opportunity to point out the need to accelerate digital transformation and support innovation in new technologies, stressing that "solutions such as Ironchip enable companies to mitigate and detect possible threats in cybersecurity matters which are already known to be one of the biggest global issues of our time". Along these lines, Pedro Muñoz Baroja, Managing Partner at Easo Ventures adds that "Ironchip is a company we have watched grow from its beginnings at the Berriup Accelerator and go on evolve in an incredible way. What always caught our attention was the simplicity of its solution to fix problems that have a major impact on the market".
Necessary impulse to expand worldwide
In addition to accelerating the growth of the company and reinforcing the technical and sales teams, this funding will go towards the company's international launch and its consolidation in the global market through new indirect channels and sourcing partners, which is already under way. Advising in this capacity is Alex Rocha, who believes that "Ironchip will revolutionise the authentication and authorisation market, as well as providing the native and exclusive integrations that are so needed these days to secure work from home, fraud control and digital identification. Digital identity with a non-intrusive security layer based on intelligent localisation will make a host of applications possible on several markets, such as online sales, e-banking or fraud prevention. Furthermore, it will also enable the Ironchip solutions to become consolidated and evaluate technology through a series of certificates that vouch for its capacity to protect the most critical of systems and enable its penetration in even the most demanding of sectors.