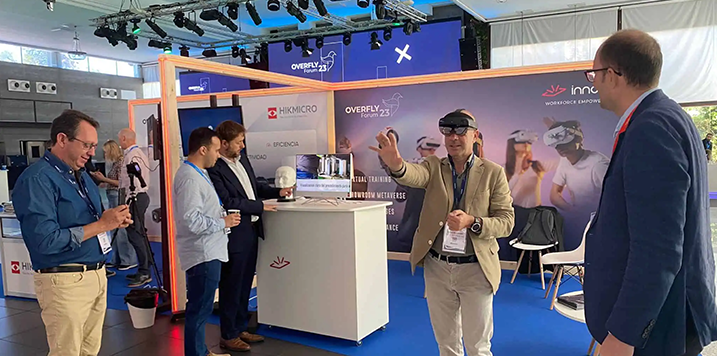 25 June, 2023
On 21 and 22 June last, Innovae took part in Overfly Forum, an event organised by the Álava Group to mark its 50th anniversary and which focused on digital and technological transformation in Industry.
Innovae was present in the Tech Corner dubbed 'Smart Industry' with a stand visited by professionals from all sectors to find out about how to apply Virtual Reality and Augmented Reality in Industry. Also, thanks to one of our multi-user rooms, many attendees had the chance to experience first-hand how our products can facilitate team training on collaborative tasks.
In addition to the exhibitor space, Overfly Forum also offered a comprehensive series of conferences on innovation. Presentations included a talk by Pablo Ayala, CEO of Innovae, entitled 'Virtual Reality: The key to effective industrial training'. During this talk, Ayala presented SAVI, a LMS based on Virtual Reality simulators, which enables workers to conduct operations in a realistic setting.
During the presentation, Ayala showcased the success story of Nippon Gases for training tanker truck drivers on how to transfer liquid gases. "It's a highly complex process that entails certain risks if it's not done right", he highlighted, which is why "designing a virtual setting to practice this process has contributed to improving driver training and garnered a significant reduction in costs for the company".
The conference, which welcomed over 500 attendees, also featured training activities, facilitated leisure activities and networking opportunities among speakers, exhibitors and participants.
Innovae and the Álava Group have been collaborating since the beginning of last year thanks to a strategic agreement designed to offer a greater ecosystem of Industry 4.0 digitalisation solutions.