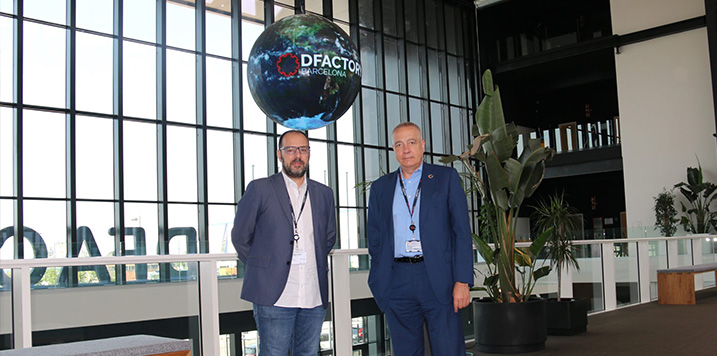 The technological business that develops solutions based on Augmented Reality and Virtual Reality is collaborating with DFactory Barcelona on site in a co-working space at their facilities.
The business joins DFactory Barcelona, the Industry 4.0 node promoted and managed by Barcelona's Consorci de la Zona Franca, with the aim of offering companies in the ecosystem exclusive access to Augmented and Virtual Reality demos through shared access laboratories.
DFactory Barcelona is an initiative aimed at promoting and developing Industry 4.0. The co-working space is a unique and innovative centre that stimulates the creation of synergies among the companies associated to the hub and provides them with support during the digitalisation process.
Innovae is the first company dedicated to Augmented Reality and Virtual Reality solutions to occupy a spot in the co-working space and it joins a list of companies offering 4.0 enabling technologies in the ecosystem, with access to the resources available there to develop its innovation projects.
Xavier Riba, Co-founder and Regional Director of Innovae sees the interaction with the ecosystem of DFactory Barcelona as an opportunity to create synergies and build value alongside first rate companies, with the goal of continuing to be an active player in the digital revolution that is happening in the industry.
Thus, the aim is to contribute to improving the competitiveness of the manufacturing sector and digital transformation by incorporating research and innovation as well as cross-cutting enabling technologies, such as Augmented Reality and Virtual Reality.
Pere Navarro, special State delegate in Barcelona's Consorci de la Zona Franca views the inclusion of Innovae very positively, stating that "with the presence of Innovae we now have at DFactory Barcelona another of the leading technologies in new industry, namely Augmented Reality, which makes us even more attractive to investment and talent".