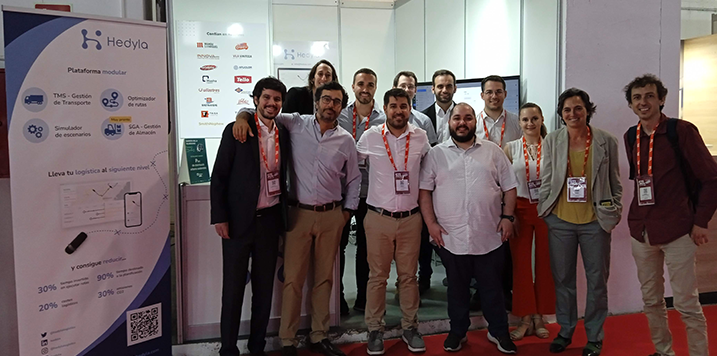 20 June, 2023
Hedyla took part in SIL Barcelona (International Logistics Event) in 2023. Over three intense days, Hedyla had the privilege to form part of this extremely important event for the logistics and maintenance sector.
This year SIL 2023 was celebrating its 25th anniversary and HEDYLA was present to showcase its latest innovations and perform demonstrations of its last-mile and TMS-transport software products.
But its participation was not just limited to showcasing products. Hedyla had the honour of giving a talk at the Port de Barcelona stand, where it shared success stories that have transformed the logistics operations of two major companies: Vila Viniteca and Mahou San Miguel. Joining Hedyla in the second presentation was Julio Pazos, director of logistics at Mahou San Miguel and Ricardo Magán, director of new business development and marketing at Taisa Logistics, the drinks company's logistics operator.
One of its outstanding success stories is Vila Viniteca, a renowned wine and spirits distributor. Working in close collaboration, Hedyla developed a solution to optimise its delivery routes. Implementing Hedyla software enabled Vila Viniteca to cut down on transport times, minimise associated costs and, most importantly, improve customer satisfaction.
Another success story presented was its collaboration with Mahou San Miguel, Spain's leading beer company. Together, they developed a logistics hub optimiser that has revolutionised the company's supply chain. Using advanced algorithms, the software determines the location of logistics hubs, considering factors such as demand, transport costs and delivery times. Thanks to this solution, Mahou San Miguel has improved its operating efficiency, reducing costs and guaranteeing smooth and effective distribution of its products.
Attendees at SIL2023 enjoyed live demos of HEDYLA solutions
In addition to sharing these success stories during the talk given at the Port de Barcelona stand, live demos were also held at Hedyla's own stand. Attendees at SIL 2023 were able to get first-hand experience of Hedyla's last-mile and TMS-transport software solutions and see how their technology can facilitate and optimise logistics processes, improving company efficiency and profitability.