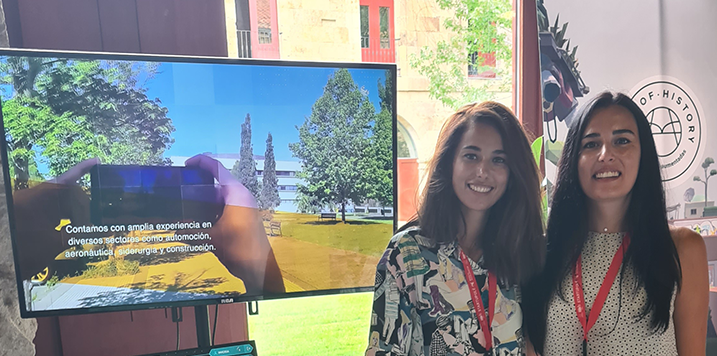 Immersia, the Gipuzkoa-based startup founded by Seda Tosun (CEO) and Samara Ruiz (CTO) specialising in visual intelligence, 3D visualisation and data analytics via virtual replicas and interactive environments, took part in the third edition of the open Acceleration and Innovation Programme run by BIND 4.0 to develop a project based on a digital twin, in collaboration with Sidenor, leaders in the manufacture of special steel long products and supplier of products for calibration.
Thanks to its innovative technology, Immersia has been selected to put two projects into action with the industrial SMEs of BIND 4.0 SME Connection and, after its time with the programme, Immersia has developed a new technological solution based on the Digital Twin concept for Sidenor's Basauri factory, which aims to enhance the presentation of all the MES system data. To achieve this, they created an interactive 3D model of the entire lamination plant and, using the data available, they generated a series of KPI's and specified different data layers (real time, historical, by shifts, etc.). They also designed a multi-device application to display the data obtained in an intuitive and interactive manner.
For Immersia, the opportunity to participate in BIND 4.0, has marked a before and after in its trajectory, since the process has enabled them to get closer to companies and demonstrate the value of their technology, opening doors for participation at key sector events. In this way, Uptek's SMEs, Dimeco and Ona, will embark on two projects with Immersia aimed at enhancing visualisation and data intelligence in order to optimise external and internal processes and the use of quality control enabling technologies.
BIND 4.0 SME Connection Programme
BIND 4.0 SME Connection is the new programme of the open innovation platform aimed at Basque industrial SMEs. It's aim is to provide external solutions for its internal digital transformation challenges while also promoting the development of commercial skills and boosting the immersion of startups in the local ecosystem, catalysing new business opportunities.
This active investment and acceleration approach enables startups to keep ownership and source benchmark customers, while at the same time obtaining paid contracts for implementing solutions in real environments.
In order to take part in BIND 4.0 SME Connection, the Cluster Dynamising Organisations (ODCs),
Uptek , Aclima, Clúster energía and ACICAE,
posed a series of challenges to which the startup candidates had to respond with technological solutions.