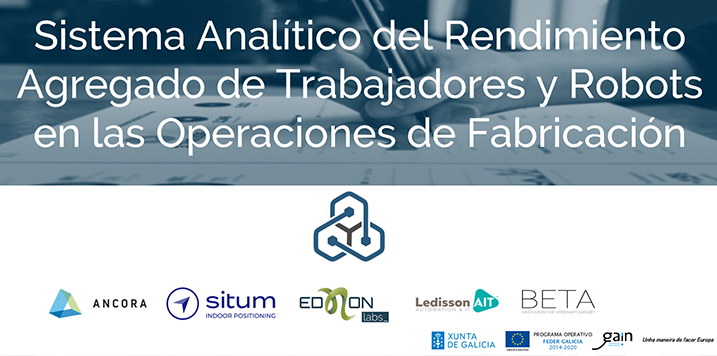 20 July, 2023
SARATROF (acronym in Spanish for the Analytical System for the Aggregate Performance of Workers and Robots in Manufacturing Operations) is a research project started in 2021 with the aim of developing a system to characterise the performance of companies through aggregate information from machines and workers, in order to increase production competitiveness based on information and communication technologies (ICTs) and on artificial intelligence (AI) and run in collaboration with the companies Ancora, Ledisson, Situm and Beta Implants.
This collaborative project is created within the framework of the Conecta Hubs 2021 scheme, which is grant-aided by Axencia Galega de Innovación (GAIN) and receives financial support from the European Union (co-financed with FEDER Funds under the 2014-2020 Feder Galicia operating scheme). It also receives the support of the Deputy Vice-president and the Galician Government's Ministry of Economy, Enterprise and Innovation.
The value that this project provides is to improve the productivity of companies by integrating the different information silos that tend to exist in a company and that often fail to communicate amongst themselves. The objective is for the information generated in each of the silos to be able to be integrated into a single platform and to analyse the data in order to make decisions to improve the company's productivity from a more global viewpoint.
In this third year, Ancora's activities have centred around the pilot rolled out at BETA Implants with the modules developed throughout the project and the data acquisition and analysis based thereon. The close collaboration with BETA Implants has enabled improvements to be introduced in a new implementation of Ancora Worker Connect which features production analysis capabilities. These new analytical capabilities have been implemented through an in-house module capable of generating real-time results regarding the performance of workers in conjunction with the rest of the elements in the factory, in order to offer feedback to the worker on their performance and provide action guidelines.
The combination of analytical capabilities with digitalisation and worker assistance has resulted in improvements for the workers at BETA Implants and for the company itself in terms of accessing information, managing production in real time and traceability.
The results obtained this year also reflect the results of tasks executed in prior years of the project. Project SARATROF has enabled Ancora to fulfil the goals that were set, most notably:
• Designing and developing an industrial intelligence module capable of assisting workers and thereby improving their competitiveness and efficiency.
• Applying different technologies and strategies to improve the efficiency of the workers at the plant
• Generating metrics relating to worker efficiency and integration of Ancora Worker Connect within the interface in order to provide feedback to the worker on their performance in real time.
In addition, interacting with BETA Implants and the work carried out in the pilot have enabled the rollout of the Ancora solution and its monitoring in high-availability manufacturing settings to be enhanced.