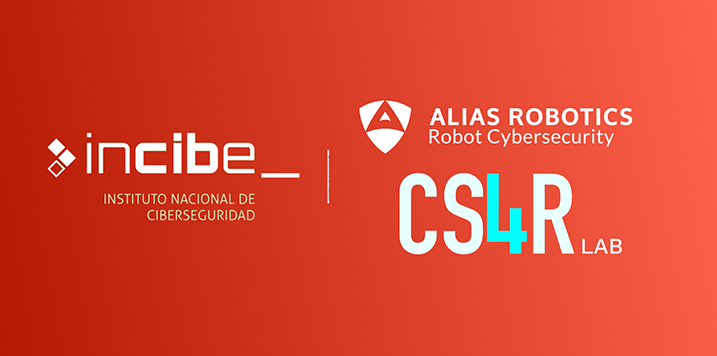 21 September, 2023
Alias Robotics, world lead in robot cybersecurity solutions announces today the opening for the first of its kind "robot security" evaluation lab, named CS4RLab (Cybersecurity for robots lab). The lab will be specialized in cyber physical system cybersecurity assessments and norm and standard compliance.
The laboratory, that has been fully certified by the Spanish National Cybersecurity Institute ([INCIBE])(https://www.incibe.es/), adheres to the National Network of Industrial Cybersecurity Laboratories of Spain and will be serving national, european and international clients. The laboratory represents the formalization of efforts and expertise by Alias Robotics working with various clients around the globe, from industrial manipulator OEMs to medical robot manufacturers. In words of Endika Gil-Uriarte, CEO at Alias Robotics:
"Certifying CS4RLab with INCIBE is a key step forward for us at a strategic moment. The advent of new norms at the EU level such as the new version of the Machinery Directive, CyberResilienceAct (CRA), Medical Device Regulation, but also other regional regulations such as FDA's and international security standards such as IEC 62443, or even safety norms, such as the upcoming ISO 10218 part 1 and 2 is putting aditional challenges to manufacturers and integrators of various robot kinds, from industrial to consumer robots."
The laboratory will now turn to be the flagship of the professional security services provided by Alias Robotics. and is located at the core of Alias Robotics Headquarters in Vitoria-Gasteiz, capital of the Basque Country.
The lab counts with extensive testing infrastructure, from HW to SW testing tools and industrial grade facilities, where the largest robot use cases can be reproduced.